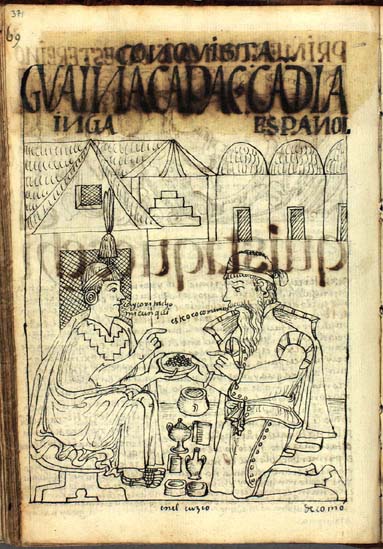 Drawing 147. The Inka asks what the Spaniard eats. The Spaniard replies: "Gold."
369 [371]
GVAINA CAPAC INGA, CANDÍA, ESPAÑOL1
/ Cay coritacho micunqui? [¿Es éste el oro que comes?] / Este oro comemos. / en el Cuzco /
CONQVISTA
/ Kay quritachu mikhunki? /
Aquí Guaman Poma confunde varios datos relacionados. Pedro de Candía apreció las riquezas del Inka en Tumbes, no en el Cuzco, durante la expedición de 1527. No se entrevistó con Huayna Capac, pero fue éste quien hizo construir allí el templo del sol que tanto impresionó a Candía. El uso de "español" para el griego Candía no refleja necesariamente el desconocimiento de Guaman Poma de la nacionalidad del artillero; como en otras ocasiones, Guaman Poma empleará el término con el sentido de "no-indio". Véase la nota, p. 369.
El episodio de Candía lo relata también el Inca Garcilaso siguiendo la versión de Cieza de León (Garcilaso [1617], libro I, cap. xiii, 1960 [Bib]: p. 32).