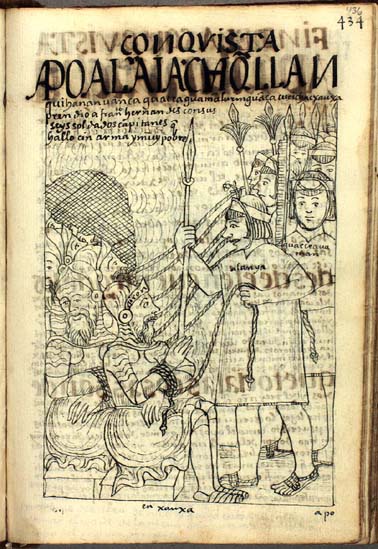 Drawing 175. Francisco Hernández Girón is taken prisoner by Apo Alanya, Chuqui Llanqui, and their soldiers, ending the rebellion against the king.
434 [436]
APO ALANIA, CHVQ[VE] LLANqui 1, Hanan Uanca, Guacra Guaman, Lurin Guanca, Cucichac, Xauxa, prendió a Francisco Hernandes con sus seys soldados capitanes que halló cin arma y muy pobre.
/ Girón / Alanya / Guacra Uaman / en Xauxa /
CONQVISTA
Apo Alanya: Guaman Poma dice que uno de los hijos de Chuqui Llanqui era amigo suyo; véase GP, p. 1130.