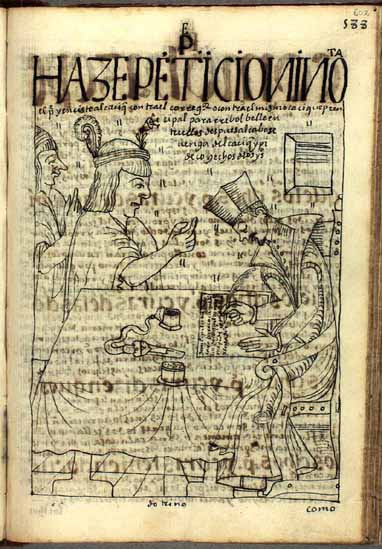 Drawing 235. Don Juan Pilcone, local native authority, or kuraka kamachikuq, files a written complaint against the royal administrator with the help of the parish priest.
588 [602]
HAZE PETICIÓN I NOTA el padre y enciste al cacique contra el corregidor o contra el mismo cacique prencipal para rrebolbello entre ellos. Después al cabo s[e] uenga del cacique y pide cohechos a los yndios.
/ 'Don Juan Pilcone 1 de Apcara, curaca camachicoc: Digo que el corregidor me pide yndio para traxeneador'. / dotrina /
P[adres]
/ kuraka / kamachikuq /
Véase GP, p. 499 y nota 2.