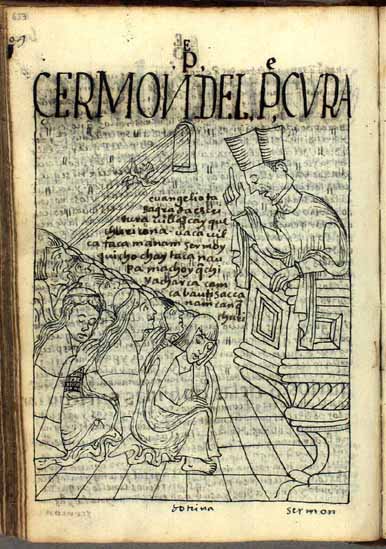 Drawing 242. The priest's Quechua sermon brings sleep to some parishioners, the dove of the Holy Spirit to all.
609 [623]
CERMÓN DEL P[ADR]E CVRA1
/ "Euangeliota sagrada escritura uillascayque, churicona. Uaca uilcataca manam sermoyquicho. Chaytaca naupa machoyque chi yacharca. Camca bautisacca nam canque, churi." ["Hijos míos, les voy a anunciar el evangelio, la sagrada escritura. No deben servir a las divinidades locales. Antes, sus antepasados vivieron así, pero ustedes ahora ya están bautizados, hijos."] /dotrina /
P[adres]
/ Evangeliota sagrada escritura willasqayki, churiykuna. Waqa willkataqa manam sermoykichu. Chaytaqa ñawpa machuyki yacharqa. Qamqa bautizasqa ñam kanki, churi. /
Los detalles de este dibujo tienen varios matices de significado. Por un lado, Guaman Poma satiriza el efecto del sermón del padre en algunos de sus feligreses que están durmiendo. Sin embargo, la paloma del Espíritu Santo entra por la ventana y las caras atentas y las lágrimas de otras personas confirman la creencia de que la palabra de Dios puede obrar positivamente a pesar de que el instrumento sea poco adecuado para la predicación. En efecto, el análisis del doctor Urioste revela que este "sermón" contiene varios errores gramaticales y que es, otra vez, una sátira contra los padres españoles que no conocen la lengua. Acerca de los varios tipos de sermones en este capítulo, véase el ensayo de Urioste en Guaman Poma, 1980 [Bib]: t. 1, pp. xx-xxxi.