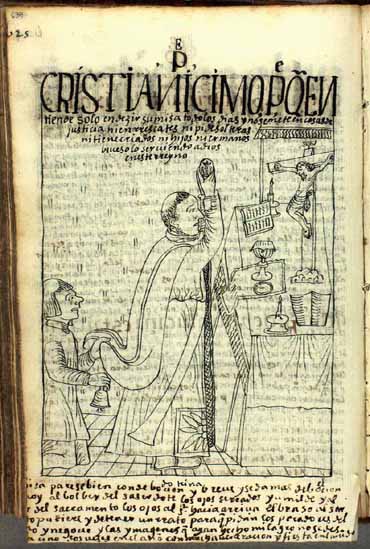 Drawing 248. The exemplary Christian priest celebrates daily mass with extreme devotion, and does not meddle with the law, commerce, or unmarried women.
625 [639]
CRISTIANÍCIMO P[ADR]E1 Q[VE] ENtiende sólo en dezir su misa todo los días y no se mete en cosas de justicia ni en rrescates ni pide solteras ni tiene criados ni hijos ni ermanos; biue solo, seruiendo a Dios en este rreyno.
/ dotrina /
P[adres]
* [M]isa parese bien con deboción y breue y se da más deboción [...]a oy al bolber del saserdote los ojos serrados y umilde y al[zados] del sacramento los ojos al señor hacia arriua el braso alsar [cuan]to pudiere y detener un rrato para que pidan los pecadores del [mun]do y negocie y las ymágenes que ayan hecho milagro no se des[cuida], cino dos ueses en el año con mucha ueneración y fiesta en [e]l mundo.
El cuidado con que Guaman Poma elabora esta composición, aun en colocar el corporal por debajo del cáliz y la hostia, indica una vez más su conocimiento de lo eclesiástico y su afán de demostrarlo.