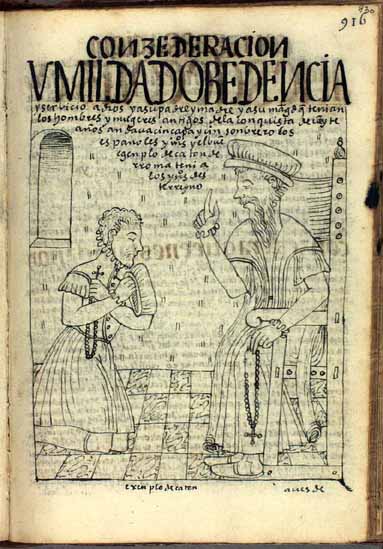 Drawing 334. A Christian kneels before his lord, following the example of Cato of Rome and with the obedience characteristic of Christians during the early years of the conquest.
916 [930]
VMILDAD, OBEDENCIA y serbicio a Dios y a su padre y madre y a su Magestad que tenían los hombres y mugeres antigos de la conquista: De ueynte años andaua cin capa y cin sonbrero los españoles y indios y el buen egenplo de Catón de Roma1 tenía los yndios deste rreyno.
/ exenplo de Catón /
CONZEDERACIÓN
Referencia a Marcus Porcius Cato (234-149 a. de J.C.) bajo cuyo nombre se divulgava una colección de refranes didáctico-morales ("Distica Catonis") que servía como manual de conducta, traducido a todas las lenguas del Occidente a partir de la edad media.