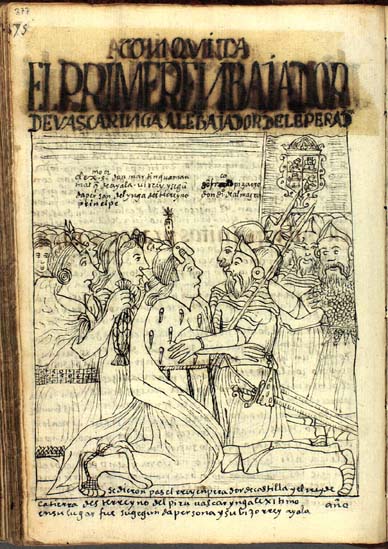 Drawing 150. Don Martín de Ayala, the first ambassador of Huascar Inka and father of Guaman Poma, greets Don Francisco Pizarro and Don Diego de Almagro, ambassadors of the Spanish king.
375 [377]
EL PRIMER ENBAJADOR DE VASCAR INGA AL ENBAJADOR DEL ENPERADDOR [sic]
/ El excelentícimo señor don Martín Guaman Malqui de Ayala, virrey y segunda persón del Ynga, deste rreyno príncipe / don Francisco Pizarro / don Diego de Almagro /
CONQVI[S]TA
* Se dieron pas el rrey enperador de Castilla y el rrey de la tierra deste rreyno del Pirú Uascar Ynga, lexítimo1. En su lugar fue su segunda persona y su bizorrey Ayala.
Compárese este episodio inventado por Guaman Poma con las notas de las páginas 16 y 378. Es posible que el kuraka Guaman Malqui, mitmaq en Lucanas, diera la obediencia a Pizarro no en este momento en Tumbes sino más tarde en Cajamarca.